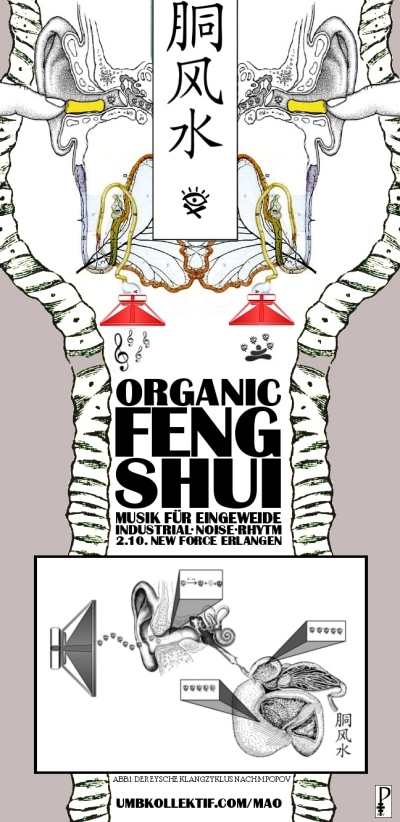 SÖUND: MUSIK FÜR EINGEWEIDE
Nachdem in Hochzeiten bis zu drei Tonträger parallel liefen und wir nicht mitgeschrieben haben, gibt es hier auf mehrfachen Wunsch einen Ausschnitt dessen, was noch aus unseren spärlichen Erinnerungen hängen geblieben ist. Die Liste ist also leider etwas unvollständig. Musik lief zwischen 20:30 und 3:10.
Ah-Cama Sotz - Confession (Con-Fashion Remix von 5F_55)
Ars Moriendi - Totenvogel (live)
Asche - Distorted DJ Pt.3
Atarabilis Sunrise - Hungry for Light
Atari Teenage Riot - Blood in my Eyes
Atrox - Versuch einer Versöhnung
Bad Sector - Ogiva (Red Club Mix)
Blackhouse - Blackhouse / Make A Choice
Cabaret Voltaire - Yashar
Clint Mansell - Lux Interna
Club Moral - Nazis of the Night
Con-Dom - Credo
Controlled Bleeding - Cotostomia
Daft Punk - The Brainwasher / Tron Legacy End Theme
Dazzling Malicious - Hell Whores in High Heels
Der Marnz - Headless Army
Deutsch Nepal - Silent Siege
Diutesc - Brainwashmaschine
Dive - True Lies (One)
DJ Scotchegg - Live in Budapest
Doddodo - Doddodo Death
Esben And The Witch - Marching Song
Esplendor Geometrico - Jado
FAV - Abmarsch
Felix Kubin feat. Mark Boomastik AKA D Grossmutter - Stelle am Mund
Haus Arafna - New Skin Grafting / You Die / Arafna Simulation
Hijokaiden - Planetticket
Hypnoskull - G Break Numbah´ 23 Killah´ / Money and Bitches
Geneviéve Pasquier - Existance (Twin Voice Mix)
Genocide Organ - Klaus Barbie
Goldfrapp - Human (masseys Cro-Magnon Mix)
Imminent - Strass (live)
Industriepalast - Electric disasta
Institute - Grey Ground
Janitor - Humanity
Kiew - Synapsenbrecher
Knifeladder - Cut & Run
La Nomenklatur - Rexthrem
Ladyscraper - Chunderchunkmaster
Laibach - B Mashina / Achtung
Lingouf - Dojo
Le Syndicat Electronique - Sacrifice
MAO - Liars / Synaptic / Aju / Han´KD´Rum / Waschmaoschine
Marita Schreck - Das Einhorn Lebt
Maska Genetik - Ernste Stunde
Materialschlacht - A Piece of shit
Mental Agression - Definitive Solution for Minor
Mercantan - Germanium
Monolith - The Inner Core
Morgenstern - Beasts
MSBR - 1000 Pulses in Bosnia / Live in Maastrich
Nine Inch Nails - Mr. Selfdestruct
NON - irgendetwas von der "Blood And Flame"
Objekt.Urian - Agitation
Orphx - Nullity 2.3
Otto von Schirach - Zombie Prom
Painslut - This is my War
Panasonic - Teurastamo
Paul Lemos & Joe Papa - Tormentor´s Song
Phallus Dei - Geigercounter
Pineal Gland Zirbeldrüse - Eleven
Portishead - Machine Gun
Propergol - Outburst
Proyecto Mirage - Errecion Congenita
Psychic TV - Unclean (Themes 2 Version)
PTV3 - Higher & Higher
Rasputeen - Begib dich in Gefahr
RA-X - Die Wahrheit
Shitmat - Moo Moo Farm
Siechtum - Dunkler Tag
Skrillex - Kill Everybody (Bare Noize remix)
Söldnergeist - Magick Weapon Fight
SPK - Emanation Machine R. Gie 1916
Synapscape - My Distance
Synth Etik - Unit Synth
Terrormasta & Materialschlacht - BDR-Vinyl01 Demo
T.Raumschmiere - The Game is not Over / E
The Klinik - Nautilus III
This Morn´Omina - Epoch
Thorofon - Blacksouls / Riotdictator
Throbbing Gristle - Vow Of Silence
Turbund Sturmwerk - Himmel voller Maden
Velocity Star - Warm Leatherette
Vromb - Variation Et
Whitehouse - A Cunt Like You
Das nächste mal findet 2012 statt. Alles zu seiner Zeit auf:
http://www.umbkollektif.com/mao