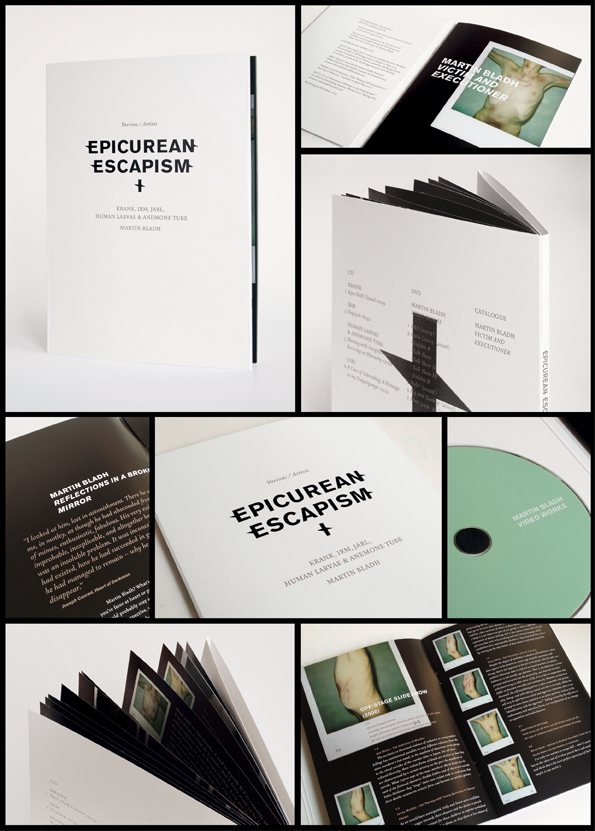 V/A "EPICUREAN ESCAPISM I" CD/DVD/CATALOGUE
More information:
http://www.transformed.de/eef.html
Bandcamp:
http://epicureanescapism.bandcamp.com/a ... escapism-i
Epicurean Escapism I Compilation CD + Martin Bladh DVD "Video Works" + a 24-page catalogue with essay & art works by Martin Bladh
Right on time for the third Epicurean Escapism Festival, The Epicurean & Silken Tofu release another compilation, which is not a mere reissue of the previous Epicurean Escapism I tape/DVDr set released in 2012, but comes with new & exclusive tracks by IRM, KRANK, JARL as well as a collaboration track by HUMAN LARVAE & ANEMONE TUBE. Apart from this, the set includes a DVD with collected video works by IRM mastermind MARTIN BLADH and a 24-page catalogue with essays and artwork by the same artist.
Swedish industrial trio IRM provide an episodic track constructed with elements from "Indications of Nigredo", "Order4" and their new album "Closure" unified into a new, holistic composition, which contrasts aggressive noise segments with the illusionary moments of almost folkish lavishness. The track by John Murphy's lately revived project KRANK is a dark collage of fragmented noise, accoustic samples and female vocals all intermingled in a vortex of sonic chaos. IRM member JARL contributes a subtle piece of circulating drone sound, whose tranquil surface makes the half hidden harshness beneath even more audible. ANEMONE TUBE and HUMAN LARVAE contribute a quite lucid piece that perfectly combines the qualities of both projects – the knock-on effect of Anemone Tube's flow of sounds melts with the heaviness of Human Larvae's doomlike industrial.
The 92 minute DVD by MARTIN BLADH includes his earliest short film "Pig and Tomboy"(2005), the epic pentalogy "Cycle" (2006) and the conceptual installation video "DES" (2009) among others. All the films present unvarnished set pieces of the human body subjected to subtly implied violence within claustrophobic spaces, where the camera itself, the voyeuristic eye, is the only free player. The accompanying art catalogue includes collages and Polaroids, several short essays by Bladh as well as an introduction text by Carl Abrahamsson.
Conception, compilation and design: The Epicurean 2014
Texts: Martin Bladh
CD mastering: Phil Julian 2014
DVD Format: Region free PAL
Label: The Epicurean (D) & Silken Tofu (BE)
Release date: 22nd of August 2014
Limited Edition: 350 copies
Packaging: luxurious 6 panel 21 x 15 cm folder, 24-page catalogue, printed on matt image paper with dispersion varnish and packaged in a transparent, sealable bag
EPICUREAN ESCAPISM I CD
Playtime: 65 minutes
1 KRANK - Eyes Half Closed 10:19
2 IRM - Triptych 16:52
3 HUMAN LARVAE & ANEMONE TUBE - Shining with Insignificance / Reviving in Obscurity 12:50
4 JARL - A Case of Inbreeding: A Homage to my Doppelganger 25:21
MARTIN BLADH "VIDEO WORKS" DVD
Playtime: 92 minutes
1 DES (2009)
2 Cycle (2005 - 2006): Exhibit A, Talk Show, Talk Show II, Talk Show III, Exhibit B
3 Hole3 (2006)
4 Pig and Tomboy (2005)
5 Matt 5:29 - 30 (2005)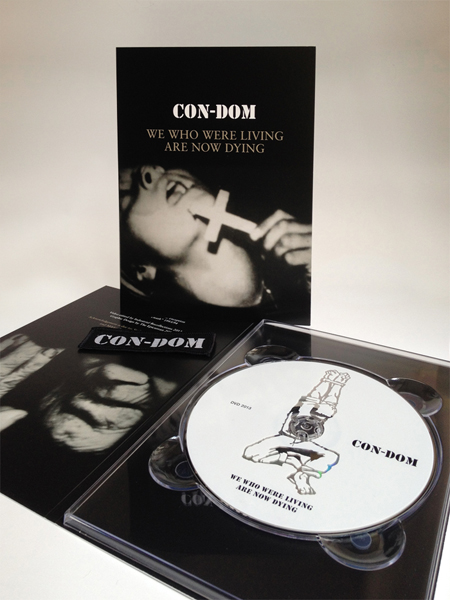 CON-DOM "WE WHO WERE LIVING ARE NOW DYING" DVD + woven patch
More information:
http://www.transformed.de/eef.html
Super 8 short films and experimental movies of Mike Dando/CON-DOM, who has operated in the multimedia domains incorporating sound, film and performance since his early years. Dando confronts the audience in extreme ways, touching on taboo subjects suppressed or reduced to primitive stereotypes by the mass media of today. With a devastating barrage of noise he traces the unconscious religious subtext of modern mass society, cross-fades religious and political (border) phenomena and relates them with violent and pathological aspects. In the six short films, created in the 1980s to early 1990s and finally digitally restored in 2013, daily routine scenes are juxtaposed with grainy photos of criminals, dictators and clerics and book pages bearing crude, racist interpretations of Scripture, filmed line by line.
Label: The Epicurean (D), Silken Tofu (BE) & Peripheral Records (UK)
Editing: Industrial Recollections
Graphic Design: The Epicurean
Playtime: 55 minutes
Limited edition: 222 copies
Packaging: DVD digi pack, High quality 400 chromolux paper, includes woven patch with Con-Dom logo
1 Impressions of a System 6:12
2 The Coming of Christ 13:35
3 Our Pleasure in the Pain/Vilification 8:42
4 All In Good Faith 1 14:18
5 All In Good Faith 2 (Get Right With God) 6:52
6 Hunger for Death 5:57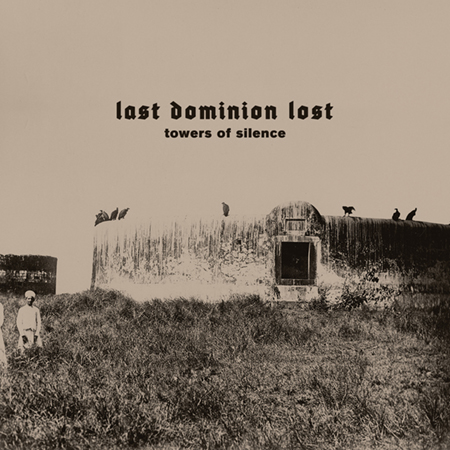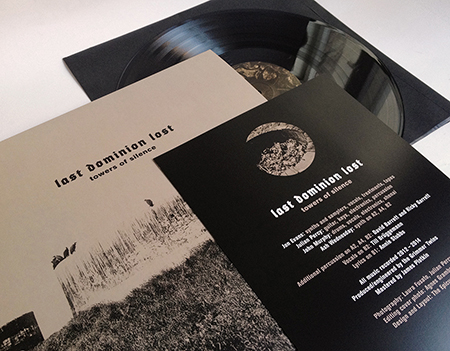 LAST DOMINION LOST "TOWERS OF SILENCE" CD/LP
More information:
http://www.transformed.de/eef.html
Bandcamp:
http://epicureanescapism.bandcamp.com/a ... of-silence
In Mumbai there are a number of brick towers, into which the Parsi people of India throw their dead ones, bound for their final journey up to heaven inside the vulture's bellies. This habit of sky burial derives from the Zoroastrian cult of Ancient Iran, where heaven was imagined as a very physical place. The towers, which remind of archaic silos, are called Dakhma or in English Towers of Silence.
LAST DOMINION LOST leave it to the listeners to guess where "Towers of Silence", the allegorical title of their new album, really refers to – the fatal nature of physical life? The awkward edges between biological mortality and the idea of an eternal afterlife? The dreadful content which you may find inside what people built up? It's all open. One thing that LAST DOMINION LOST clearly show is how loud and infernal the silence of ending can be imagined. Screams of rage and anxiety intermingle with the shoutings of warriors – if the latter is not rather the croaking of vultures, which gather around corpses – until all is buried under an avalanche of infernal noise.
More than 20 years after the recordings for their debut album "The Tyranny of Distance" (Tesco, 2004), LAST DOMINION LOST come up with brand-new material recorded between 2012 and 2014, brilliantly mastered by James Plotkin in June 2014. Besides the core band members Jon Evans, John Murphy (Krank, Ex-SPK, Shining Vril) and Julian Percy (Ratbag), "Towers of Silence" includes guest contributions by Ash Wednesday (Ex-Einstürzende Neubauten), Till Brüggemann (Gerechtigkeits Liga) and Annie Stubbs among others.
Label: The Epicurean (D), Silken Tofu (BE)
Release date: 22nd of August 2014
Mastering: James Plotkin
Design: The Epicurean
Playtime: 42:41 minutes
LP: 140g Black vinyl, High quality 400g cover sleeve, A4 inlay and black inner sleeves, Limited edition of 300 copies
CD: 4-page booklet and traycard in jewel case, Limited edition of 300 copies
1 Stagma
2 Sektor F
3 S.E.A.T.O.
4 Caesium Sunrise
5 Kavum
6 Hexatom
7 Chlorpromazine
8 Chöd Ritual
9 Minol
10 Towers Of Silence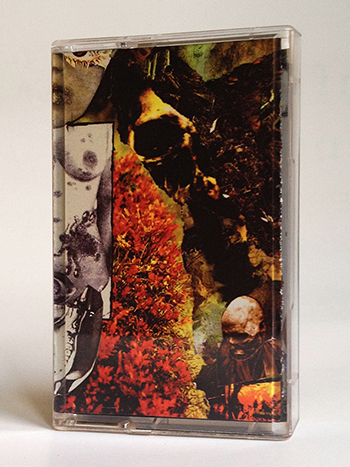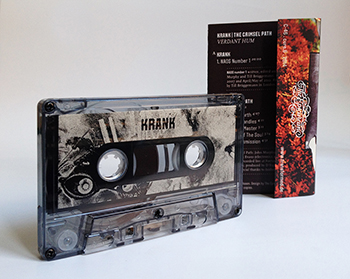 KRANK / THE GRIMSEL PATH "VERDANT HUM" Tape
More information:
http://www.transformed.de/eef.html
Bandcamp:
http://epicureanescapism.bandcamp.com/album/verdant-hum
KRANK, formerly also known as KRAANG in various spellings, is one of the main projects of prolific Australian drummer John Murphy (Shining Vril, Knifeladder, Last Dominion Lost, Ex-SPK). While doing percussion for a large number of bands on a regular basis, Murphy revives KRANK only in longer intervals, and shows up with a rare number of gigs and recordings. On this tape, which is the first official release by KRANK since the debut album "Chaos" (Dark Vinyl, 1991), he shows that he is far more than just a percussionist, but also a virtuous sound manipulator and a master of sonic chaos. "NAOS Number 1", which was recorded and produced together with Gerechtigkeits Liga`s Till Brüggemann in 2007 and 2012, is a twenty minute collage of abrasive noise particles, creepy voices and deranged fragments of percussion. In carefully chosen moments, the piece gives room to little islands of harmony, but at the same time avoids anything, that comes even close to a flow.
With their new project THE GRIMSEL PATH John Murphy and Jon Evans (Last Dominion Lost) team up again to further fathom their industrial roots. In the six fragmented tracks which were recorded live in Berlin 2012 a lot of sounds and structures echo the chaotic vortex of the longer KRANK piece – sampled sounds of dubious industrial origines, rudimentary beat particles, haunting voices and not at least a dark fatalistic atmosphere. Yet there is a subtle kind of order in every track, which makes this sonic journey more scenic and less unpredictable.
Label: The Epicurean
Release date: 22nd of August 2014
Artwork: Kristian Olsson
Design: The Epicurean
Limited edition: 100 copies
Packaging: Pro-dublicated transparent tape with silver silk screen print and 4-color cover, includes an individual download code
KRANK (Side A)
1. NAOS Number 1 20:00
THE GRIMSEL PATH (Side B)
1. Deviation 2:42
2. Scorched Earth 4:07
3. Hair Soap Candles 4:21
4. Run Please Master 3:11
5. Sideshow Of The Soul 3:14
6. End of Transmission 4:51
- - -
THE EPICUREAN
Shop:
http://www.transformed.de/shop.html
More information:
http://www.transformed.de/eef.html
Bandcamp:
http://epicureanescapism.bandcamp.com